Written by The Newsletter of the Free Gaza Movement 1/2009, Jan. 5 | 04 January 2009
Violence Even Against Emergency Boat
The Newsletter of the Free Gaza Movement 1/2009, Jan. 5
Death and destruction is Israel's current Gaza policy. More than 500 have been killed since the massacre started, and a ground offensive began, while countries like Germany officially justify the slaughtering by saying that the Zionist state is defending itself and that Hamas is the only one to blame. The Free Gaza Movement takes a stand for occupied Palestine and does not believe that the war on Gaza is a defense or in any way constructive or justified. The Gaza Community Mental Health Programme, for example, one of the three civil society organisations which were the first to offcially invite the Free Gaza Movement to Gaza, was largely destroyed by Israeli F16 airplanes. GCMH is an internationally renowned organisation which has done extrordinary work throughout the Gaza Strip for many years. Israel uses violence against civilians and even the Free Gaza emergency boat was brutally attacked and damaged in international waters last Tuesday. See CNN video at http://www.youtube.com/watch?v=xgddT_i9260&eurl= (8:36) and the press photo of the damaged boat by Hassan Bahsoun (download http://www.freegaza.org/uploads/2008/01_2009.jpg - 2336x3504 pixel, 72 dpi) as well as more photos at http://www.flickr.com/photos/29205195@N02. Now the boat is in Tyre, Lebanon. We have located an alternate ship, which we're currently working on procuring. It's probably not the perfect boat for the Free Gaza Movement, but the most suitable and affordable one we could find in the short amount of time. Our new ship will carry about 30 passengers and 10-15 tons of cargo. We intend to leave for Gaza sometime within the next two weeks. Also in this issue: what you can do to support the movement, passengers for the next boat, news from internationals in Gaza, who broke the ceasefire agreement, the Free Gaza Art Festival, a calendar date and the quote of the week.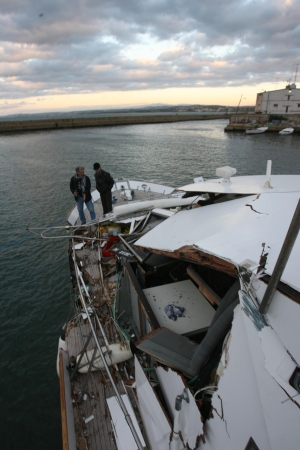 "Dignity after Israeli attack", copyright Hassan Bahsoun
Israeli Gunboats Rammed Dignity Three Times
The Dignity, on a mission of mercy to besieged Gaza, was attacked and received serious structural damage by Israeli Navy on Dec. 30 at approximately 6am (UST) in international waters, roughly 90 miles off the coast of Gaza. Several Israeli warships surrounded the small, human rights boat, firing live ammunition around it, then intentionally ramming it three times. According to ship's captain, Denis Healy, the Israeli attack came, "without any warning, or any provocation." Caoimhe Butterly, an organizer with the Free Gaza Movement, stated that, "they kept yelling that if we didn't turn back they would shoot us." According to Cynthia McKinney, former U.S. congresswoman and Green Party presidential candidate, "the Israelis indicated that [they felt] we were involved in terrorist activities." Israel's deplorable attack on the unarmed Dignity is a violation of both international maritime law and the UN Convention on the Law of the Sea, which states that "the high seas should be reserved for peaceful purposes." Delivering doctors and urgently needed medical supplies to civilians is a just such a "peaceful purpose." Deliberately ramming a mercy ship and endangering its passengers is an act of terrorism. - Contact info: http://www.freegaza.org/index.php?module=latest_news&id=06ec9655d88714c7ffaf8b1534783da3
What You Can Do
Israel has closed off Gaza from the international community and told all foreigners to leave. We are saying NO! We are coming in. We will not leave the Palestinian people to be slaughtered by Israel. Israel's actions amount to war crimes and the international community must take concrete action to end this catastrophe. When states and the international bodies responsible for taking action to stop such atrocities chose to be impotent, then we--the citizens of the world--must act. We are willing to risk our lives in witness and to try to end this madness. We need your help to make it difficult for Israel to stop us even before our boat hits the water. Please help by: planning a vigil at the Israeli Embassy in your country or any other public place, from the moment the boat departs (we will inform you of this ahead of time) until the boat's safe arrival in Gaza; by contacting your local media and asking them to cover our mission; by asking your elected representatives to issue statements supporting our boat mission; by writing letters to your local media about the importance of this kind of direct-action resistance. Once we set sail, we do not plan on turning back. We will stay at sea, insisting on access to Gaza, until we succeed or Israel gravely attacks or arrests us. Through all of this, we know and will insist that we are not the story. The story is the tragedy that is happening to the civilians of Gaza and why Israel is being allowed to commit these crimes with impunity.
Passengers for the Next Boats
We will give priority for places on the boat to doctors, journalists (preference going to major media outlets), and political figures or other high profile people. We will try to take two or three long-term human rights workers in on this voyage as well. If we successfully enter, we plan to make continuous, back to back trips for so long as funds are available. If you know doctors, journalists or politicians that would be willing to go with us please contact Karin at: kpally at earthlink.net or call Huwaida at +357-96-723-999 immediately. We are now putting together the list of passengers that we can accommodate on the first boat. However, we will also want to have a list of people ready to go on the second and third trips, if the first one makes it in, so do continue to direct people to us. Also: we have received lists of urgently needed medical supplies from the Palestinian Ministry of Health and from hospitals in Gaza. If you know of groups in your country that would like to donate medical supplies or make a contribution towards the purchase of medical supplies, please put them in contact with Lubna immediately at lubnna at gmail.com or +357-99-081-767
News from Internationals in Gaza
There are several international human rights observers from the Free Gaza Movement and other groups currently in Gaza. See, for example, Vittorio Arrigoni's quote of the week below and his Italian blog at http://guerrillaradio.iobloggo.com, Sharon's blog at http://talestotell.wordpress.com and Eva's at http://ingaza.wordpress.com. Video interviews with the prolific journalist Ewa Jasiewicz, Jenny Linnel, Fida Qishta and more can be seen at http://www.youtube.com/user/lowvoicesloud. Also visit the new blogs http://gaza08.blogspot.com and http://www.savegazanow.blogspot.com. Since an air raid by the Israeli Air Force led to the injury of one and the death of another Palestinian doctor on December 31th and five more Palestinian medics on January 4, International Solidarity Movement and Free Gaza Movement volunteers will be accompanying medical teams throughout the Gaza Strip. In an effort to document the war crimes being committed by the Israeli military operation in Gaza, the internationals will be joining Gazan medical teams in shifts, both governmental and NGO hospitals. Volunteers expressed their concerns about the violation of Articles 19 and 21 of the Geneva Convention, which state that medical facilities and vehicles are to be protected from warfare. See http://www.palsolidarity.org/main/2009/01/01/human-rights-activists-to-accompany-medical-teams-in-gaza/
Who broke the ceasefire agreement?
The date Israel broke the ceasefire agreement was November 4th, when it killed six Palestinian fighters. On November 5th, another Israeli attack killed seven Palestinian fighters while on November 1st, yet again the Israeli army killed a Palestinian farmer. All of the Israeli killings were carried out in the Gaza Strip and on November 5th, Hamas' military declared the ceasefire to be broken and thus no longer valid. Attacks against civilians are always illegal. But consider that Israel has killed 380 men, women, and children and injured 1,720 in just four days, using U.S. supplied F-16 fighter jets, Apache helicopters, and naval gunboats against a mostly unarmed population ... and the onslaught continues. American taxpayers give Israel $7 million per day, see http://www.ifamericansknew.org/download/GazaDec08.pdf. And consider that part of the ceasefire agreement was the lifting of the siege which simply did not happen and that the democratically elected Hamas recently proposed to continue the ceasefire without the siege which was ignored. Consider that the ceasefire has also been broken by Israeli naval ships patrolling Palestinian waters and consider that Hamas has recognized Israel in the borders of 1967 three years ago. And: there is no one in the Israeli government who has presented a scenario for peace.
Winners of the Free Gaza Song Contest
Ofer Golany and Angelika Wagener (Cello) won the Free Gaza Song Contest with Ofer's easy, Caribbean-like version of the Free Gaza Song. You can hear it in the webcam version at http://www.anis-online.de/office/events/FreeGazaSong.htm, but it is hoped he will record his version with a good mike. Ofer Golany is an Israeli songwriter and peace activist, active for the right of conscientious objection. His websites are http://www.ofermusic.com and http://www.guns2guitars.org. Right now he is recording an anti-militarist project called "Your Sister": http://www.myspace.com/akhotkha - And now sharpen your pencils and tune your instruments for the Free Gaza Art Festival: http://www.anis-online.de/2/freegaza/artfestival.htm. Every kind of art can be submitted: paintings, drawings, sculptures, videos, photos, collages, poetry, literature, music, dance, land art, anything that is clearly related to Free Gaza and that can be shown online. Next to artistic contributions, the Free Gaza Art Festival will present special features about artists in Gaza and Palestine. See you there!
Calendar January 8: The musical group Helm (http://www.helmmusic.com) is part of the group 14 Friends of Palestine and plays a benefit concert for the Free Gaza Movement in London in the Darbucka World Music Bar, http://www.darbucka.com
Quote of the Week
"Let's get this straight: as a pacifist and non-violent person I totally abhor any form of Palestinian attack against Israel, but out here we're sick of hearing that tired old adage according to which this massacre of civilians was Israel's answer to the Palestinians launching their modest, homemade 'rockets'. For precision's sake, from 2002 to the present day the qassam rockets against Israel have produced 18 dead, while only last Saturday, in just a couple of hours we counted more than 250 civilians dead in the hospitals." - Vittorio Arrigoni in Gaza, "The Unnatural Catastrophe of Gaza", Jan. 1, http://www.freegaza.org/index.php?module=latest_news&id=b99a192190aabb518904b15ee54187dd&offset==
The Newsletter of the Free Gaza Movement and the website http://www.freegaza.org present news and background info on the nonviolent Free Gaza Movement and their action to break the siege of Gaza and Palestine. This issue was edited by Anis Hamadeh in Mainz, anis at anis-online.de. - German translation at http://www.anis-online.de/2/freegaza/newsletter/2009/01.htm#dt ; Subscription over the "Friends of Gaza" Newslist at https://lists.riseup.net/www/subscribe/gazafriends, contact to Free Gaza: friendsofgaza at gmail.com. Updated Free Gaza media clippings at http://www.freegaza.org/uploads/media/free_gaza_in_the_media.pdf. For general Palestine daily news visit http://www.theheadlines.org