Written by Free Gaza Team | 05 January 2009
The Free Gaza Movement began in the Fall of 2006 with a simple idea: Instead of waiting for the world to act, we would sail to Gaza ourselves, and directly challenge the Israeli siege ourselves. For almost two years, Free Gaza activists in Australia, Britain, Cyprus, Germany, Greece, Lebanon, Palestine, and the United States worked to raise money, locate ships and crew, and train and organize for our first attempt to break through Israel's blockade. By August 2008 we were ready, and we sailed to Gaza in two, small, wooden fishing boats: the FREE GAZA and the LIBERTY.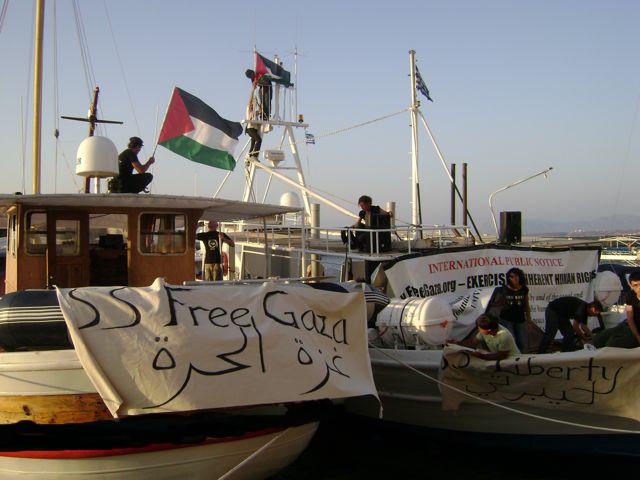 Since then we have continued to sail to besieged Gaza, bringing in human rights workers and lawyers, journalists, academics, and parliamentarians, as well as several tons of desperately needed humanitarian aid. We are students and teachers, human rights observers and aid workers, lawyers, medics, activists - parents and grandparents. We are of all ages and backgrounds, from countries all across the world. We will go to Gaza again and again and again. We have not and will not ask for Israel's permission. It is our intent to overcome this brutal siege through civil resistance and direct action.

We will continue to challenge Israel's illegal closure of the Gaza Strip and collective punishment of its civilian population until the Israeli siege is forever broken and the people of Gaza have free access to the rest of the world.
Timeline & Details of each Journey
1st)
August 23-29 , 2008 - Our Historic First Voyage
44 passengers from 17 countries sailed to Gaza. Among them Musheir El-Farra, a Palestinian human rights activist originally born and raised in Khan Younis in Gaza but currently living in Sheffield, UK, who stated that: "For the first time in my life, I went to Gaza without being humiliated, without having to ask Israel for permission. We did it. We finally did it. And now others must join us and do it as well."
Read more... for details of our first journey and a complete passenger list


2nd) October 28 - November 1, 2008 - The Second Breaking of the Siege
27 passengers from 12 different country came aboard for our second voyage to Gaza, including Palestinian legislator Mustapha Barghouti, Nobel Laureate Mairead Maguire.

According to Gaza human rights activist Fida Qishta, "This second breaking of the siege means a lot, actually. It's the second time in two months that people have come to Gaza without Israel's permission, and that tells us that Gaza will be free."
Read more... for details of our second journey and a complete passenger list


3rd) November 8-11, 2008 - Parliamentary Delegation
24 passengers, including 11 past and present European parliamentarians, sailed with us on our third voyage to Gaza, along with over a ton of medical aid.

"We're thankful that we were able to deliver these badly needed medical supplies," said Dr. Arafat Shoukri, "however, the unfortunate truth is that these supplies are only symbolic. Until the siege ends once and for all, innocent people will continue to unnecessarily suffer and even die."
Read more... for details of our third journey and a complete passenger list


4th) December 8-11, 2008 - "Student" Delegation
Professors Mike cushman and Jonathon Rosenhead of BRICUP joined us for our fourth trip to Gaza, helping to bring out 11 university students who had been denied exit by Israel.

The two professors stated that: "This siege is an affront to any idea of academic freedom or human rights. How can anyone justify preventing young people from fulfilling their potential and learning how to serve their community more fully?"
Read more... for details of our fourth journey and a complete passenger list


5th) December 19-23, 2008 - Qatari Delegation
On December 19, the Free Gaza Movement returned to Gaza once again, this time with two envoys from the Qatari Eid charity. With this historic journey, Qatar became the first Arab nation to ever break the siege of Gaza. Alze Al-Qahtani, one of the Qatari envoys, declared: "This is just the beginning..."
Read more... for details of our fifth journey and a complete passenger list


6th) December 29/30, 2008 - The Ramming of the Dignity
In response to the Israeli massacres in Gaza at the end of December 2008, the Free Gaza Movement sent an emergency delegation to besieged Gaza. Aboard the ship were over 3 tons of medical supplies, 3 surgeons , Dr. Elena Theoharous, a member of the Cypriot Parliament, and Cynthia McKinney, former U.S. congresswoman and Green party presidential candidate. The Israeli navy rammed our ship three times, almost sinking it.

According to Caoimhe Butterly, our Gaza co-coordinator, "The gunboats gave us no warning. They came up out of the darkness firing flares and flashing huge flood lights into our faces ... They rammed us three times, hitting the side of the boat hard. We began taking on water and, for a few minutes, we all feared for our lives."
Read more... for details of our sixth journey and a complete passenger list


7th) January 12-15, 2009 - The Spirit of Humanity
Immediately following the ramming of the Dignity, the Free Gaza Movement secured a new boat, the Spirit of Humanity, and attempted another emergency mission to besieged Gaza. Aboard the ship were 36 passengers and crew, representing 17 different nations.

Delegation leader Huwaida Arraf said that, "We cannot just sit by and wait for Israel to decide to stop the killing … When states and the international bodies responsible for taking action to stop such atrocities chose to be impotent, then we--the citizens of the world--must act. Our common humanity demands nothing less."
Read more... for details of our seventh journey and a complete passenger list
8th) June 29-July 7, 2009 - Kidnapped by Israel
On June 29th the Spirit of Humanity once again left for the shores of Gaza. On board were 21 journalists &
human rights workers representing 11 different countries, including Nobel Laureate Mairead Maguire and
former U.S. congresswoman and presidential candidate Cynthia McKinney. In addition to 3 tons medical aid, the
passengers were carrying symbolic gifts to Gaza, including crayons, toys, 20 olive trees, and cement and copper
wiring to wire 20 homes that had been destroyed during Israel's December/January massacre.
In the early morning of June 30th, the Israeli Navy began attempting to intimidate the crew and passengers,
threatening to open fire if they did not turn around. After being tailed and threatened for 12 hours, the Israeli
Navy sent Zodiacs loaded with ten commandos to board the boat. They high-jacked the boat to Israel,
abducting and arresting the 21 passengers, before deporting them all between July 3-7.
Israel's over-reaction & violent interference helped to raise awareness of the Gaza crisis all over the world. Over
40,000 news stories, essays, blog entries, action alerts, and radio and television segments were done on the
plight of the Spirit of Humanity.
Despite having no diplomatic relationship with Israel and refusing to recognize the legitimacy of Israel's
government - the King of Bahrain personally & successfully intervened to force Israel to immediately release the
5 Bahraini prisoners kidnapped from the SPIRIT. The General Secretary of the Arab League issued a statement.
The Greek government formally intervened with Israel on our behalf. Micheál Martin, Ireland's foreign minister,
issued a statement calling both for the release of the prisoners as well as for an immediate end to the
continuing Israeli blockade of Gaza. Richard Falk, UN Special Rapporteur on Human Rights in the OPT, issued a
formal statement calling the seizure of the SPIRIT "unlawful," and re-iterating the need to end the Israeli
blockade. The British parliament has scheduled a formal debate on Israel's unlawful abduction of our
passengers. And Tun Dr. Mahathir bin Mohamad, former prime minister of Malaysia, issued a statement calling
on both the Israeli and American governments to release the prisoners and uphold international law by ending
the Gaza siege.
These are just a few of the positive results of our 8th mission to Gaza. History demonstrates that the greatest of
injustices can crumble in the blink of an eye when confronted with a well-organized and determined resistance.
We will sail again, and we are absolutely determined to reach the Gaza Strip on our next voyage.
Future Voyages
In our initial challenges to the siege of Gaza, the Free Gaza Movement used four separate ships: the motor vessel (MV) Free Gaza, the MV Liberty, the MV Dignity, and the MV Spirit of Humanity. The Free Gaza and Liberty ships are small, wooden fishing vessels, and are unable to regularly sail to Gaza. The Dignity was brutally rammed by the Israeli navy, inflicting considerable damage to the vessel and causing it to later sink. And the Spirit of Humanity has been confiscated by the Israeli navy, though we are demanding it back.

We will not back down to the violence of the Israeli military and therefore we are working on planning the next voyage with more boats and more people. In addition, while our initial crossings were significant in a symbolic way, we are now determined to increase our efforts to bring substantial support to the people of Gaza. This is a critical objective, both to meet immediate humanitarian needs, and also to help empower Palestine to have control over its own future, and to help facilitate the reconstruction of Gaza by bringing in essential building materials currently being denied access through the land crossings with both Egypt and Israel. As such we are working on acquiring a cargo vessel.
We need your help to prepare our next mission to Gaza. Please join us.
We will go to Gaza again and again and again until this terrible siege is shattered forever.
Read more... about the HOPE FLEET