Written by Migrator | 05 November 2008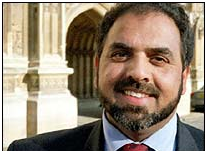 Nazir Ahmed is from a working class background and very proud of that. He says that he is not a typical member of the House of Lords, but very much a peer of the people.
He is a Labour member of the House of Lords. In 1998 he was made Britain\'s second Muslim peer (the first being the 3rd Baron Stanley of Alderley (1827-1903)) by being raised to the peerage as Baron Ahmed, of Rotherham in the County of South Yorkshire.
He is heavily involved in Middle Eastern issues, and has led delegations to Sudan and Darfur under the BRITISH MUSLIM PEACE AND RECONCILIATION INITIATIVE. In 2004,he led a delegation to Palestine and met with the late President Arafat, as well as visiting Gaza.
He says, "As a British Muslim I feel that this multi-religious, multi-ethnic society has a great contribution to make in the world, because we have started this dialogue of civilisations here, and that dialogue of civilisations and understanding of each other\'s religion, each other\'s beliefs, can be extended to the rest of the world."